Attention To Detail
The Devil Is In The Detail
At Bluefield Houseboats we believe that attention to detail is key to delivering a quality product. Our aim has always been to offer the same quality of living available on land, on water, and we firmly believe we have achieved this through the unique range of designs we are offering to the market.
We researched all the materials that have been used in the manufacturing process and have only selected the best and most sustainable. The interior and exterior colours and finishes are of the highest quality, all individually chosen with a specific purpose in mind......to give the customer the best possible living experience available on water, at an affordable price.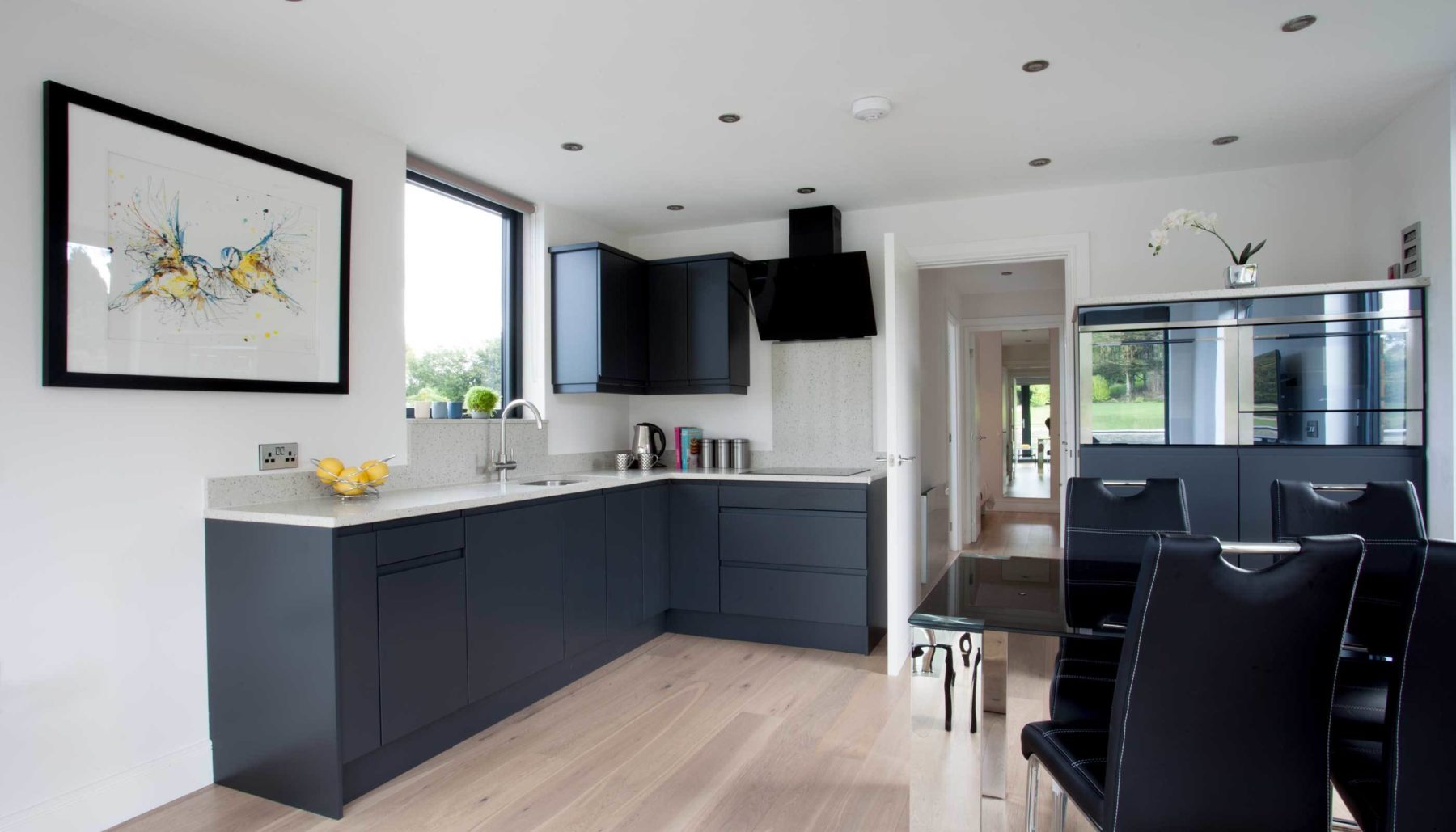 The Kitchen
Having a kitchen that is both beautiful and functional is a key deciding factor when purchasing any home, and a Bluefield Houseboat is no exception. The solid stone worktops give a stark contrast to the hand painted matt anthracite grey doors which are soft close with no handles. All electrical appliances are SMEG and include an integrated oven, combi oven, extractor fan, induction hob, dishwasher and washing machine - all with LED lights!. We've even included a SMEG water tap which gives filtered cold water, warm water and boiling water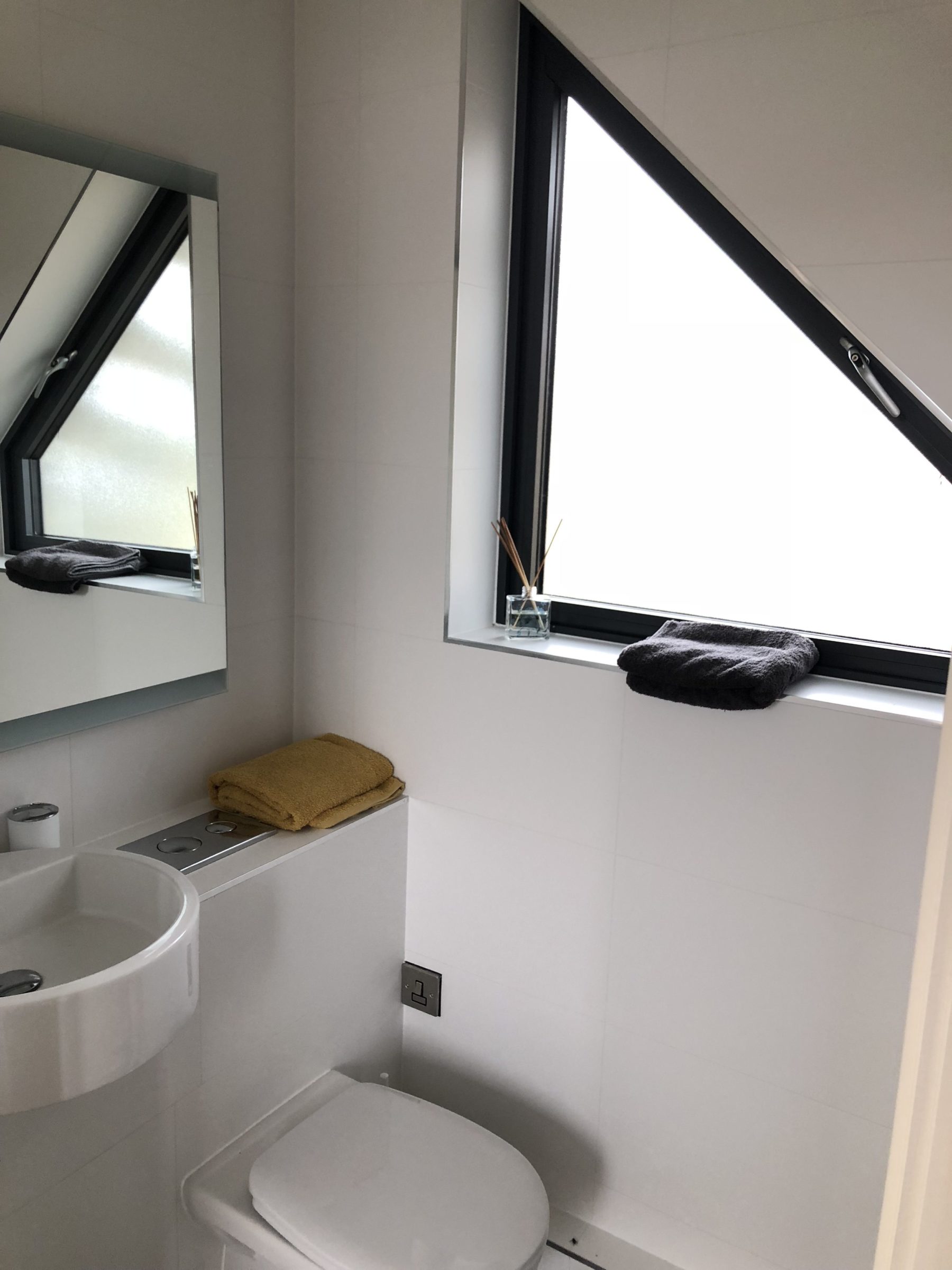 The Shower Room
The fully tiled shower room contains modern, designer sanitary ware. The grout between the tiles matches the colour of the tiles and a narrow grout joint means that from a distance the tiles are hardly visible. The angled window reflect the pitch of the staircase outside and provides some geometric interest to the space. The brilliant white gloss sanitary ware, against the matt finish white tiles, with stainless steel trim and contrasted against the dark grey aluminium powder coated windows gives a very cool, modern aesthetic. Although the shower room is quite compact the high quality materials, mirror and window work together to give the impression of a much larger, luxury space.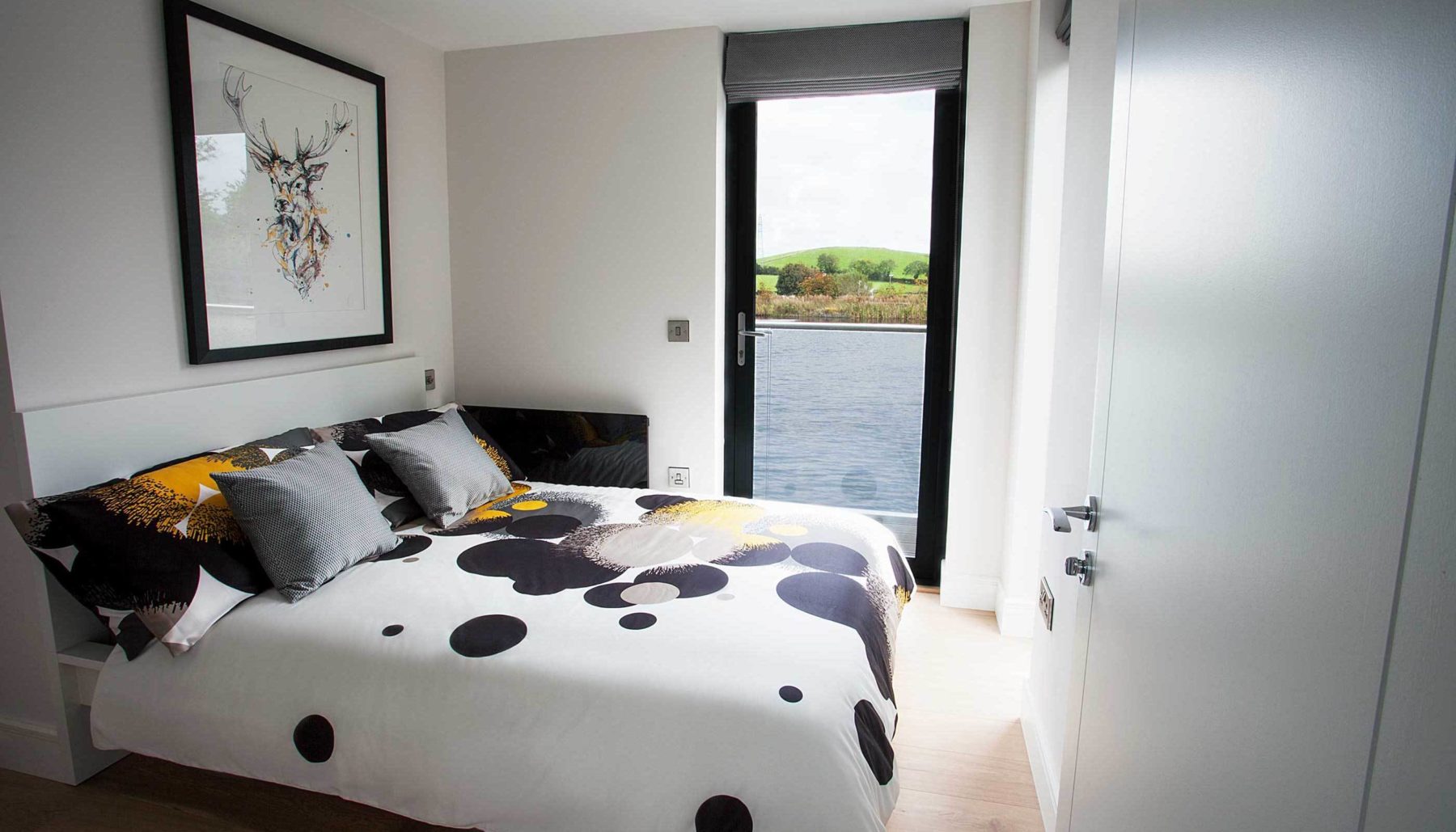 The Master Bedroom
The master bedroom is located to the rear of the houseboat. It continues the theme of crisp white walls contrasted against the dark grey powder coated windows to provide a cool, modern aesthetic. The light oak natural timber flooring flows into this room from the rest of the houseboat and the full height, floor to ceiling, door and window to the corner maximises the natural light in the space, allowing full access to the exterior perimeter walkway. The glass guarding to the walkway means the view to the water beyond is completely uninterrupted. There are ports for cable TV and fully loaded sound system integrated into the walls for the tech minded resident. The photo is taken from the doorway of the ensuite WC which really proves that a lot can be incorporated within a small footprint to ensure there are no compromises within the interior accommodation provided.
If this has sparked an interest, get in touch with our Bluefield team at [email protected]