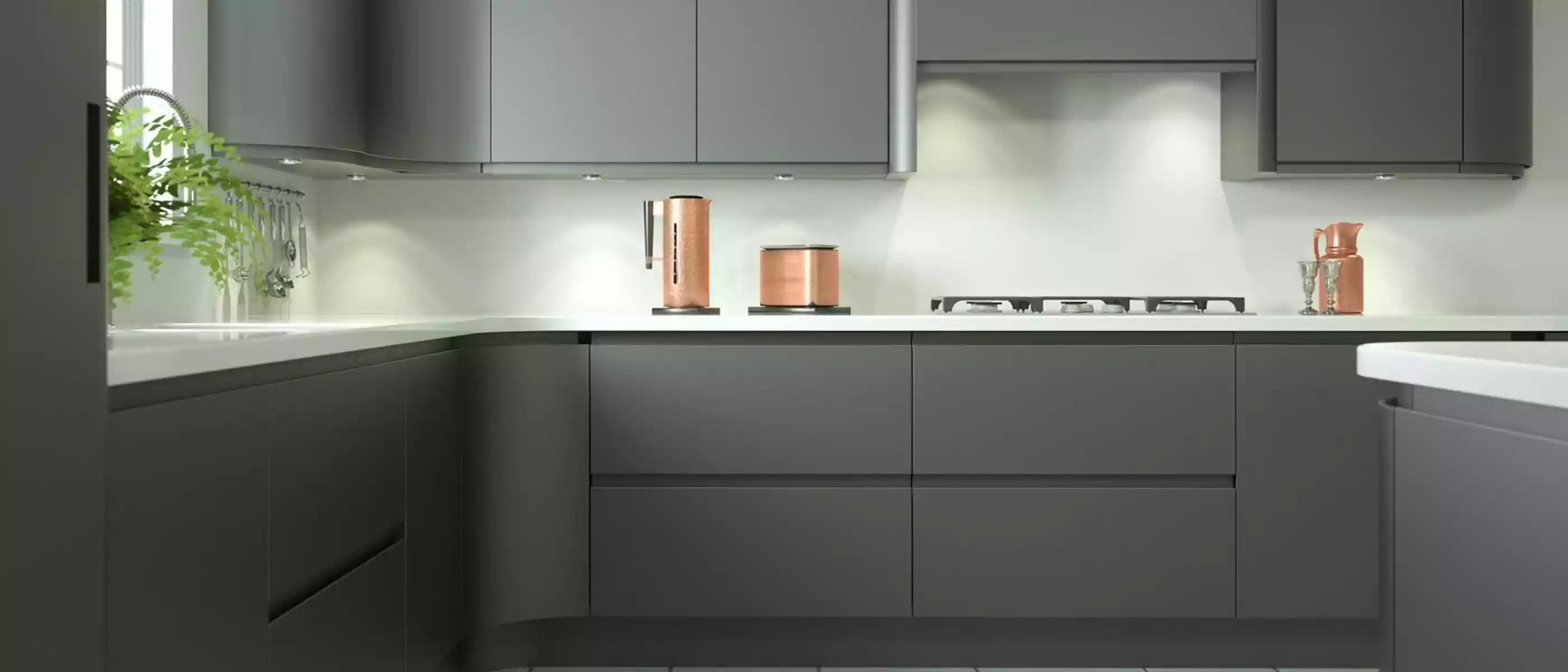 KITCHENS ARE THE FOCAL POINT FOR ENTERTAINING
Living On Water Without The Compromise
As we all know, the kitchen is the focal point in any house when it comes to entertaining, and our houseboats are no exception. At Bluefield Houseboats, we continually strive to improve our floating homes by creating the same standard of living on water as on land. We have now therefore further enhanced the modern look and feel of our R Series houseboats, by introducing a new style kitchen with island. Combining functionality with clean lines and contemporary design in these new kitchens, we continue to offer a "no compromise" living experience on water.
For a true sense of luxury, we are now including a host of new items as standard in all our R Series kitchens.
We have introduced Egger Perfect Sense matt kitchen doors for the kitchen and island, with quartz worktop, a true handless system and LED shadow lighting. All the family will love spending time in this kitchen which is central to the entire open plan kitchen / living / dining area, providing an ideal space for entertaining.
For all budding chefs, we have added a Bora downdraft hob with in-built extractor. This new unit has an extractor built into the centre of the hob which cleverly draws down odours and grease particles directly when cooking. This therefore prevents vapours from rising up and spreading around the room. This Bora hob is also much quieter than conventional extractor hoods, easier to clean and overall more effective at getting rid of any steam or odours during cooking.
A must have in all kitchens, the Quooker Pro 3 black fusion tap delivers instant cold, hot or boiling water at a simple touch. This sleek, modern tap also incorporates a childproof double-push-and-turn handle for added safety.
The Franke Quartz under mount sink with minimalist design has been added giving a natural look and timeless aesthetic to the kitchen. These sinks work particularly well with solid surface worktops, allowing for a smooth, uninterrupted finish. Fitted underneath the work surface, it gives an edgeless appearance, perfectly integrating into the kitchen environment.
Finally, we have switched to a Bosch Serie 8 oven which is energy efficient with 13 oven functions as well as an integrated grill with full-width or half-width setting depending on what is required for the quantity of food you are preparing. The Serie 8 uses 4D Hotair technology to cook food expertly even at lower temperatures. Air circulation means you can cook everything together in the oven as the air doesn't intermingle and food smells are not transferred. A "roast dinner button" also allows hot air grilling, which is ideal for roasting meat!
These high specification items along with clever design means our customers receive the luxury feel they expect from a Bluefield houseboat. There are absolutely no compromises when you step onboard!