PREVIOUSLY UNDISCOVERED POTENTIAL
Nowadays more and more people are attracted to living on the water. However, living on a boat almost always means having to compromise on living standards such as problematic 12 volt power, low ceiling heights, lightweight fixtures & fittings, and cassette toilets to name but a few.

Why can we not have the same experience of living on land, but on the water? Well now you can, as all Bluefield houseboats are essentially floating apartments which offer the same standard of living on water as you would find on land, i.e. "living on water, without the compromise".
If you are thinking about developing unused water space on your land and installing single or multiple houseboats, for private use or holiday lets, there are some key considerations we recommend you take into account before purchase.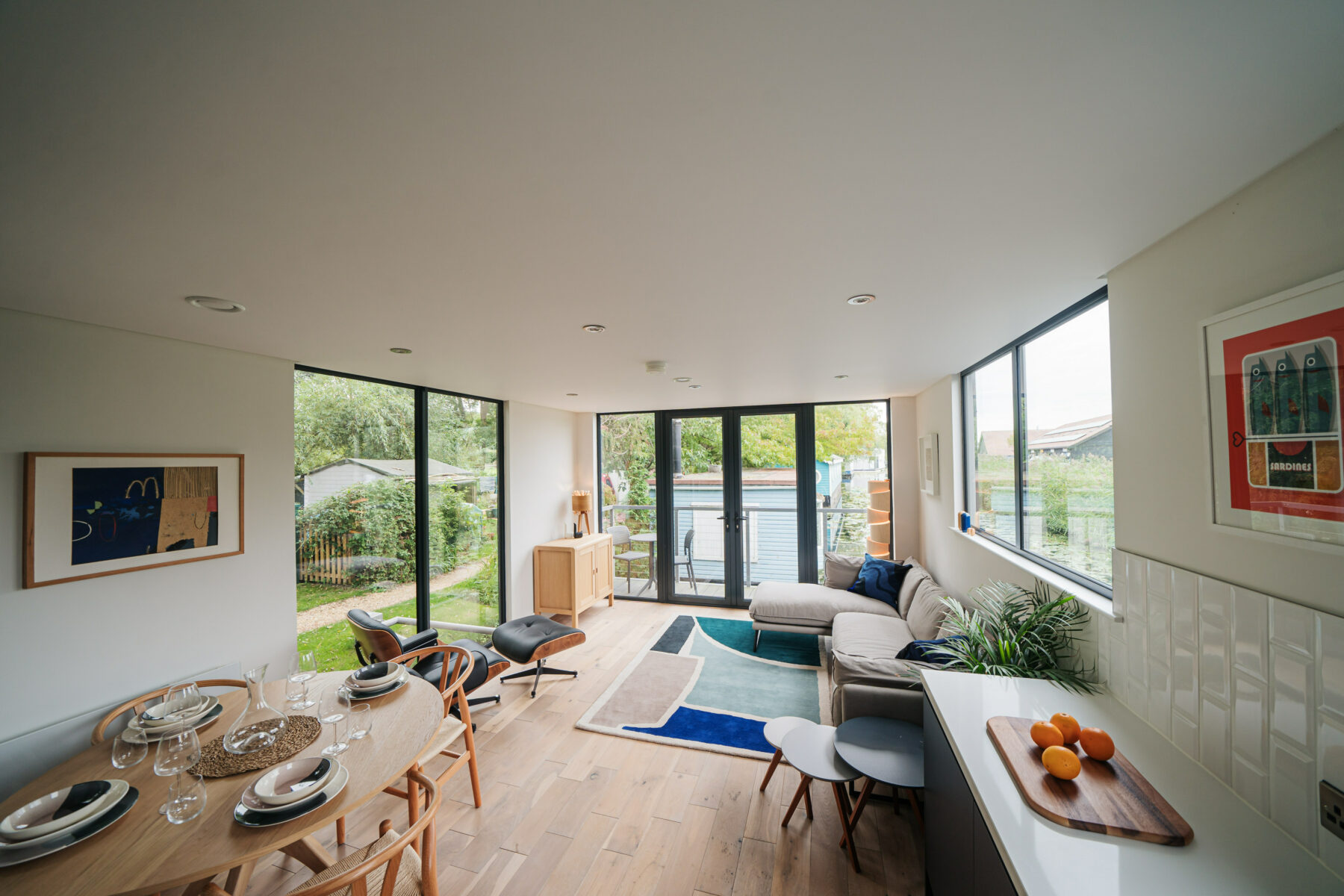 The first of these is Services, which includes water, drainage, power, gas and TV/Wifi.
In order to achieve full and effective functionality of the houseboat domestic hot and cold-water systems, a mains water supply pressure of 1 bar (gauge) is recommended. However if this is an issue, the Marina and Floating Pod Series houseboats can also be fitted with a supplementary tank and pump.
With regard to waste / foul drainage, there are 5 options for the disposal / treatment, depending on the site: These include:
Transfer tank – where the foul drainage is pumped from the houseboat to the bank, straight into the mains system or existing septic tank. Our standard unit comes with a pump which accommodates a 2m vertical 50m horizontal discharge distance, but other more powerful pumps can be provided to suit a particular site.
Transfer tank – where the foul drainage is pumped from the houseboat to the bank, straight into a large holding tank which is then emptied by a 3rd party contractor once full
Transfer tank – where the foul drainage is pumped from the houseboat to the bank, straight into a biodigester and Reed Bed which treats the waste locally .
Onboard Holding Tank – where the foul drainage is held in a holding tank underneath the houseboat which can hold up to 1 week's waste and then emptied by a 3rd party / contractor. This would be the typical option found in most marinas.
Onboard foul treatment system – EU approved but requires regular maintenance / supervision and is expensive (would be part of an off-grid system) .
We can determine the exact details of the drainage, as well as all the other utility connections in a detailed site survey, but these are all also subject to local statutory approvals.
With regard to power, all our units need a 240 volt power supply and we can adapt the loading to suit 32amp, 64amp or 100amps. The amps dictate the loading, so for example a 32amp supply very much limits the number of appliances, but as a solution we can supplement the cooking, heating and hot water with bottled gas if required.
All houseboats come TV and Wifi ready, but the service provider is a customer supplied item and can vary from site to site.
Bluefield Houseboats can also provide renewable options for the houseboat to create "off-grid" accommodation. However, these are bespoke items and we would recommend they are considered early in the design process as they are expensive, and it is important to bear in mind that not all sites are suitable.
The second major consideration is access to and within your site, specifically in relation to vehicle access and delivery access to the water. All our houseboats are delivered by road, on the back of a lorry, so access will be required for the delivery vehicle, a turning point may be required and consideration needs to be given to any overhead vegetation. The houseboats will need to be craned into the water so access for a large crane or boat hoist close to the water will also be required.
Next you will need to decide the best method of access onto the actual houseboat / houseboat development. Our two main options are a gangway direct from the bank, or access via a pontoon and this decision is normally dictated by the specifics of the site.
How the houseboat is going to be anchored is the fourth main consideration and our current options include Anchor Arms, Piles or Cleats, again depending on the specific site.
Finally, statutory approvals must be sought. We recommend all clients engage with their local authority regarding planning permission for houseboats as in most circumstances a residential houseboat or floating structure used for commercial use e.g. café or restaurant, which are fixed permanently to the shore or riverbank will require planning consent.
If you have a licensed mooring from a registered navigation authority, the mooring itself may not require planning permission but may require a change of use application and it is always advisable to check with your local Navigation Authority as well as the Local Planning Authority.
If you want to put your houseboat on a private lake or waterway, and it is permanently fixed to the land then again you will most likely still require planning permission.
We have worked closely with the Planning Team at SLR Consulting on a research document relating to houseboats and planning, and you can speak to them directly for further advice if required. We can also supply a list of FAQ on request.
In conclusion, it is possible to get a return on investment of between 10% and 60% on your "bluefield" site, depending on the specific houseboat and the nature of the development (one or multiple houseboats), but we strongly recommend you plan well in advance, so all the above key considerations are taken into account before you make a purchase. We will be more than happy to assist with any design, planning advice, feasibility studies, site surveys or drawings required to support your planning applications.