Why you will love our kitchens!
When buying a new home, one of the most important deciding factors is always the kitchen. Large or small, the kitchen is the hub of every home, the centre of a family's day to day living and the place where meals are created to fuel the body, mind and soul.
At Bluefield Houseboats, as we offer the same standard of living on water as on land, the kitchens in our houseboats have the same level of expectation.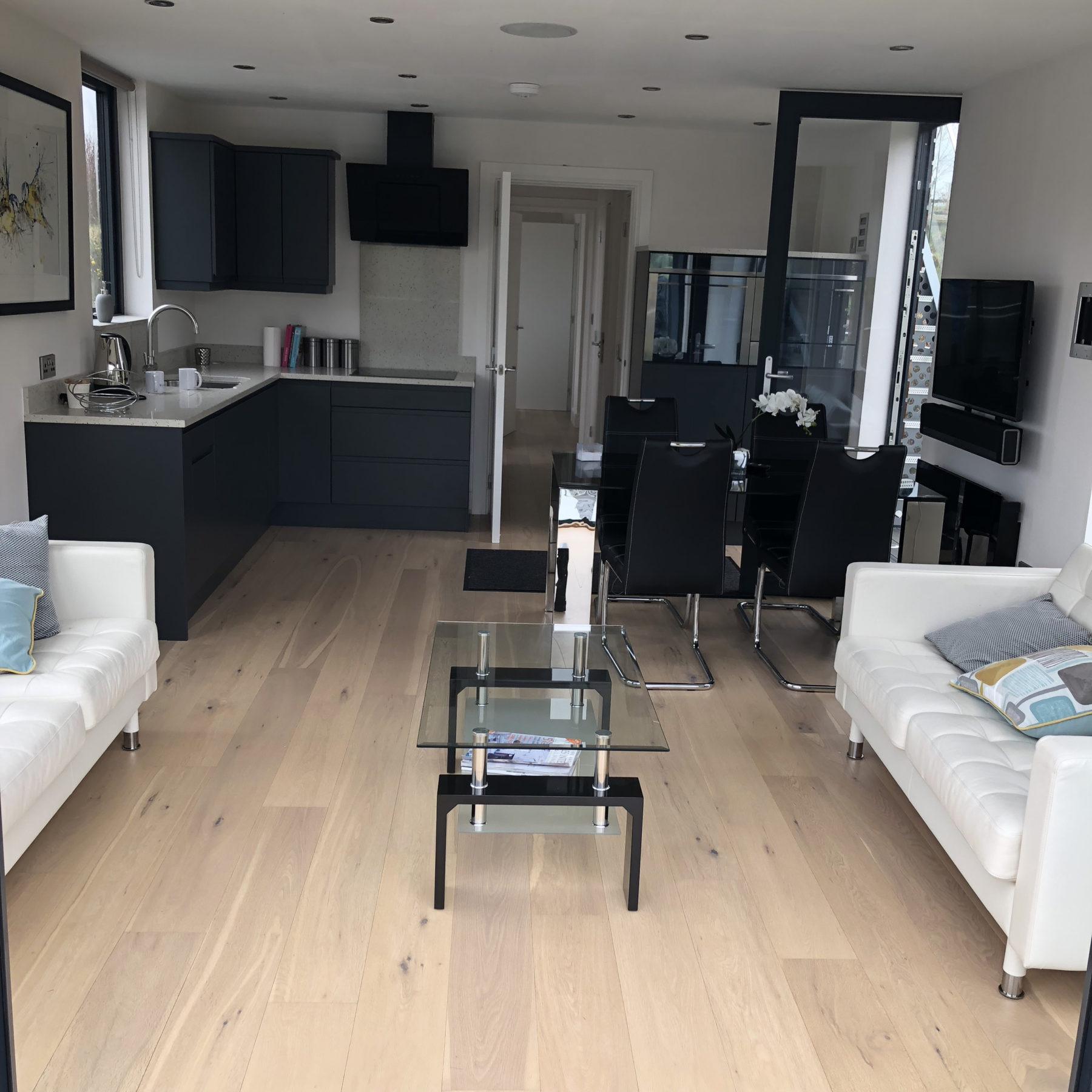 R Series
In the R Series, the modern and functional kitchen is undoubtedly the centrepiece in our top of the range houseboats as part of the kitchen / dining / living space. The hand painted anthracite grey doors are soft close with no handles, giving a minimalist look and feel. Solid stone worktops create the finishing touch to this perfect kitchen. The beauty is that the design of these kitchens is completely flexible and can be adapted to suit the client's needs. This can include an integrated oven, combi oven, extractor fan, induction hob, warming drawer, dishwasher and washing machine and they are all branded appliances. There is also the option of a must-have Franke water tap which gives filtered cold water, warm water and boiling water! Modern pop-up sockets can also be included in the R Series kitchen, adding to the clean uncluttered design. These outlets are neat and safe, and can power and charge a variety of appliances from kettles and toasters to phones and ipads. All this attention to detail means the kitchens in our R Series are the same as you would find in any luxury home on land, no compromises!
M Series and FP Series
In the M Series and the FP Series, which are our smaller budget houseboats, the kitchens are compact and cleverly designed to save space and weight. We use the same quality doors as in the R Series, but with a composite worktop. There is a hob, microwave oven and sink, giving you everything you need to cater on board for all your family and friends!
Of course there is always the opportunity to specify particular finishes in any of our houseboats, so if you require anything different or additional, then we will work to accommodate your requirements where and when possible.
With Bluefield Houseboats you are guaranteed to be…" living on water, without the compromise!"